Apple has today released a new study into the entire App Store ecosystem which shows the entire reach of Apps as a part of our economy.
The report estimates a total of $519 billion is spent globally in and around apps.
This isn't just in-app purchases, this is all about the wider spending we make like the purchase of physical goods through store apps, in-app advertising and those sorts of things.
Apple clips the ticket on any amount you spend within an app using your Apple ID/iTunes account, but they don't have any direct clarity on other purchases we make or on the total value of the in-app advertising market.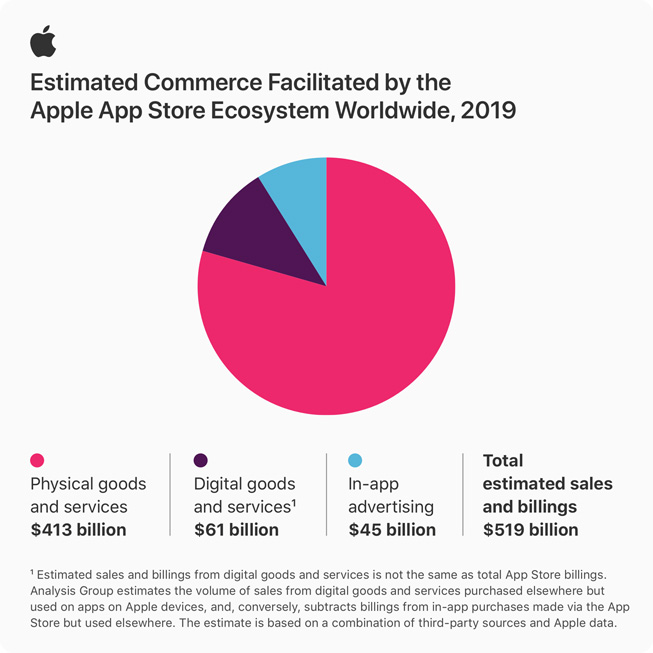 The $519 billion is a staggering amount – and that's US dollars too. That's $747 billion Aussie dollars.
Apple CEO Tim Cook says "The App Store is a place where innovators and dreamers can bring their ideas to life, and users can find safe and trusted tools to make their lives better,"
"In a challenging and unsettled time, the App Store provides enduring opportunities for entrepreneurship, health and well-being, education, and job creation, helping people adapt quickly to a changing world. We're committed to doing even more to support and nurture the global App Store community — from one-developer shops in nearly every country to businesses that employ thousands of workers — as it continues to foster innovation, create jobs, and propel economic growth for the future."
Mobile shopping within the apps of big retailers like Target and Best Buy in the USA accounts for a staggering $268 billion – a huge portion of the overall App Store economy.
Ridesharing services accounted for a staggering $40 billion in sales while food delivery apps were $31 billion. Huge numbers, and numbers that are sure to grow more.
Staggering how much the smartphone and the App Store have changed and impacted our world, and economy.